---
Deprecated
: Function ereg_replace() is deprecated in
/lib/content.functions.php
on line
730
Strict Standards
: Non-static method Events::SendEvent() should not be called statically in
/plugins/prefilter.precompilefunc.php
on line
38
Strict Standards
: Non-static method Events::ListEventHandlers() should not be called statically in
/lib/classes/class.events.inc.php
on line
104
Strict Standards
: Non-static method Events::SendEvent() should not be called statically in
/plugins/prefilter.precompilefunc.php
on line
82
Strict Standards
: Non-static method Events::ListEventHandlers() should not be called statically in
/lib/classes/class.events.inc.php
on line
104
Deprecated
: preg_replace(): The /e modifier is deprecated, use preg_replace_callback instead in
/lib/smarty/Smarty_Compiler.class.php
on line
270
Strict Standards
: Only variables should be passed by reference in
/lib/smarty/CMS_Compiler.class.php
on line
101
Strict Standards
: Only variables should be passed by reference in
/lib/smarty/CMS_Compiler.class.php
on line
101
Strict Standards
: Only variables should be passed by reference in
/lib/smarty/CMS_Compiler.class.php
on line
101
Strict Standards
: Only variables should be passed by reference in
/lib/smarty/CMS_Compiler.class.php
on line
101
Strict Standards
: Non-static method Events::SendEvent() should not be called statically in
/plugins/postfilter.postcompilefunc.php
on line
39
Strict Standards
: Non-static method Events::ListEventHandlers() should not be called statically in
/lib/classes/class.events.inc.php
on line
104
Strict Standards
: Non-static method Events::SendEvent() should not be called statically in
/plugins/postfilter.postcompilefunc.php
on line
84
Strict Standards
: Non-static method Events::ListEventHandlers() should not be called statically in
/lib/classes/class.events.inc.php
on line
104
MIESZKANIE TRENINGOWE
KOLEJNY KROK KU SAMODZIELNOŚCI
Mieszkanie treningowe jak sama nazwa to trening, czy też nauka samodzielnego funkcjonowania w stopniu dostępnym osobie niepełnosprawnej objętej tej formą wsparcia. Jest to niejako etap wstępny mieszkalnictwa chronionego pozwalającego osobom niepełnosprawnym na opuszczenie domu rodzinnego i życia na własny rachunek. To o tyle ważne, że rodzice i opiekunowie starzeją się i umierają.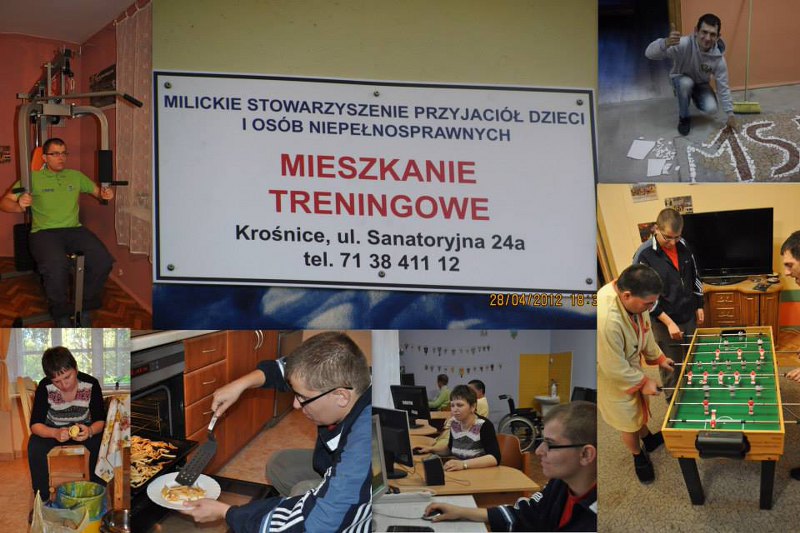 Taka jest kolej rzeczy i dotyczy to również rodzin dotkniętych niepełnosprawnością. Śmierć rodzica to zawsze dramat, zwłaszcza dla osoby niepełnosprawnej, ale ta osoba może i powinna być na to przygotowana, oczywiście na tyle na ile da się przygotować do życia bez rodziców.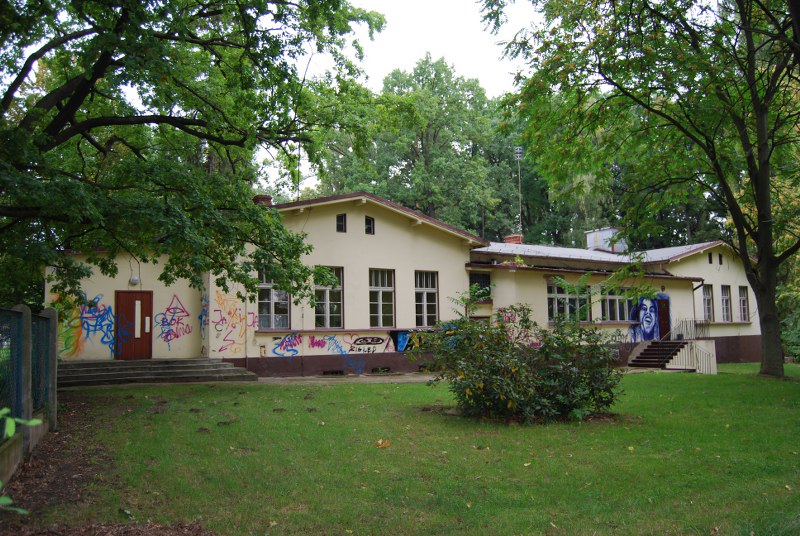 Kolejny etap wsparcia
Kiedy przed blisko dwudziestoma laty Milickie Stowarzyszenie Przyjaciół Dzieci i Osób Niepełnosprawnych rozpoczynało działalność, o mieszkaniach treningowych, a tym bardziej chronionych nikt w Miliczu jeszcze nie myślał, bo i wiedzy na ten temat nie było, brakowało możliwości infrastrukturalnych, źródeł finansowania, a i priorytety były wówczas inne. Stowarzyszenie zaczynało jako niewielka, by nie rzec kanapowa organizacja, w której prym wiodło kilku zapaleńców oraz niewielka grupa rodziców, których pociechy dotknęła niepełnosprawność.
Początkowo chodziło przede wszystkim o rehabilitację dzieci, wsparcie psychiczne rodziców i przełamywanie stereotypów dotyczących niepełnosprawności. Dzięki początkowej wizji, uporowi władz, otwartości na zmiany po dwudziestu latach działalności Stowarzyszenie nie jest już tym samym Stowarzyszeniem, a z wypracowanej przez nie filozofii wspierania mogą i powinni czerpać inni. Dzisiaj MSPDiON prowadzi Ośrodek Wczesnej Interwencji, Niepubliczny Zakład Opieki Zdrowotnej, Poradnię Rehabilitacyjną, Dzienny Ośrodek Rehabilitacyjno-Wychowawczy, Powiatowy Ośrodek Wsparcia, Warsztat Terapii Zajęciowej, mieszkanie treningowe, bank żywności, wypożyczalnię sprzętu rehabilitacyjnego, poza tym w sposób pożyteczny zagospodarowuje czas wolny osób, które wspiera poprzez organizowanie różnorakich zajęć świetlicowo-weekendowych. Nie trudno zorientować się, że Stowarzyszenie nie jest już organizacją kanapową. Zatrudnia blisko 180 osób, dysponuje kilkoma budynkami, wysokiej klasy przystosowanym transportem, ale przede wszystkim skala i jakość udzielanego wsparcia jest nieporównywalna z tą sprzed dwudziestu lat. Dziś liczbę osób regularnie wspieranych w ramach zinstytucjonalizowanych form edukacyjno-terapeutycznych liczy się w setkach, a tych wspieranych doraźnie w tysiącach.
Na podstawie nawet pobieżnego przeglądu placówek i różnorakich działań prowadzonych przez MSPDiON bardzo wyraźnie rysuje się model wsparcia osób niepełnosprawnych stosowany w Miliczu. Najistotniejszymi cechami tego modelu są kompleksowość i długofalowość. Pierwsza z wymienionych cech to precyzyjne dostosowanie form wsparcia do potrzeb. Tutaj nikt nie rozkłada bezradnie rąk, potrzebna jest hipoterapia – jest hipoterapia, potrzebne jest wsparcie psychologiczne – jest psycholog, potrzebny jest sprzęt rehabilitacyjny – można go wypożyczyć, potrzebna jest integracja sensoryczna – są specjaliści i jest odpowiedni sprzęt itd. Podobnie było z mieszkaniem treningowym.
Druga z cech wypracowanego przez MSPDiON modelu wsparcia, czyli długofalowość jest równie istotna, bo po pierwsze – zapewnia ciągłość wsparcia, po drugie – umożliwia otrzymanie odpowiedniego wsparcia w każdym momencie życia. Niemowlak trafia do Ośrodka Wczesnej Interwencji, gdzie jest kompleksowo diagnozowany przez sztab specjalistów, jeśli jest konieczność otrzymuje specjalistyczną terapię – różne formy rehabilitacji, terapię logopedyczną, terapię pedagogiczną, itd. Wsparcie otrzymują również rodzice, czy to w formie instruktarzu do pracy w domu, czy w razie konieczności wsparcie psychologiczne. Kiedy dziecko kończy 18 m-cy i wciąż wymaga wsparcia trafia do prowadzonej w Dziennym Ośrodku Rehabilitacyjno-Wychowawczym tzw. grupy matki z dzieckiem, gdzie pod okiem specjalistów przygotowuje się do przedszkolnego etapu edukacji i czekających je zajęć rehabilitacyjno-terapeutycznych prowadzonych już bez udziału rodziców. Następnie po wejściu w wiek przedszkolaka dziecko trafia w zależności od stanu zdrowia i sposobu funkcjonowania do grup integracyjnych przedszkola, przedszkola specjalnego, bądź grup ZRW, gdzie prócz stosownej do wieku i możliwości edukacji, ma również zapewniony szeroki wachlarz zajęć terapeutycznych adekwatnych do potrzeb.
Po etapie edukacji przedszkolnej dzieci, których stan i poziom funkcjonowania na to pozwala opuszczają DOR-W i udają się do szkół masowych wciąż mogąc liczyć na odpowiednie wsparcie terapeutyczne ze strony specjalistów z DOR-W. Te zaś, które nie mają szans na edukację w szkołach masowych zostają w DOR-W i tutaj realizują obowiązek szkolny w oddziałach klasowych na poziomie szkoły podstawowej, a następnie gimnazjum, mając cały czas zapewnioną stosowną terapię.
Po ukończeniu kolejnego poziomu edukacji absolwenci szkoły mają szansę trafić do Warsztatu Terapii Zajęciowej, ci zaś z orzeczonymi upośledzeniami w stopniu głębokim i ze sprzężeniami do Powiatowego Ośrodka Wsparcia. W Warsztacie Terapii Zajęciowej osoba niepełnosprawna zostaje usamodzielniana w stopniu możliwym do osiągnięcia, uczy się w zależności od możliwości mniej lub bardziej skomplikowanych czynności samoobsługowych, przechodzi trening ekonomiczny, zostaje przygotowana do funkcjonowania w różnorakich sytuacjach społecznych, uczy się prac przydatnych w życiu codziennym i ewentualnej karierze zawodowej.
Do niedawna Warsztat Terapii Zajęciowej był właściwie finałem zinstytucjonalizowanego wsparcia osób niepełnosprawnych w ramach MSPDiON. Stowarzyszenie zrobiło jednak kolejny krok i jeszcze bardziej rozszerzyło zakres oferowanego wsparcia. Dzięki udziałowi w programie Trener Pracy miliccy niepełnosprawni znajdują zatrudnienie na tzw. otwartym rynku pracy. Na razie skala zatrudnienia nie jest duża, ale stale rośnie.
Kolejną inicjatywą MSPDiON będącą niejako kwintesencją kompleksowego modelu wsparcia osób niepełnosprawnych jest stworzenie mieszkania treningowego będącego zalążkiem mieszkalnictwa chronionego, do którego MSPDiON od jakiegoś czasu bardzo poważnie się przymierza.
Ciąg dalszy:
3. Z życia mieszkańców, czyli codzienność cudownie szara
4. Nie wszyscy mogą, nie wszyscy chcą
---