---
Opis Działania
AAC – KOMUNIKACJA ALTERNATYWNA I WSPOMAGAJĄCA
To system zachowań wobec dziecka, który wspomaga rozumienie mowy i motywuje do nawiązania kontaktu z drugą osobą.
DLA KOGO JEST AAC ?
Dla każdego dziecka, które nie mówi.
PO CO WPROWADZAĆ AAC ?
Aby osoba niemówiąca mogła dokonywać wyborów, podejmować samodzielnie decyzje, pytać o świat, wyrażać swoje myśli, potrzeby, emocje - aby mieć wpływ na swoje życie!!!
DLACZEGO KONIECZNE JEST WŁĄCZENIE W AAC RODZICÓW DZIECKA ?
System ustalonych zachowań musi być kontynuowany poza przedszkolem, szkołą.
W domu to rodzice, rodzeństwo, dziadkowie rozmawiają z dzieckiem.
Muszą więc wiedzieć JAK to robić.
SYSTEMY ZNAKÓW AAC
- ZNAKI PRZESTRZENNO - DOTYKOWE
Od nich zaczynamy. Są to przedmioty lub fragmenty przedmiotów (np. łyżeczka może oznaczać jedzenie, kredka – rysowanie, część puzzli – układanie puzzli, gąbka – kąpiel)
- ZDJĘCIA
przedstawiają rzeczy, osoby lub miejsca, które są dla dziecka istotne i które może wskazać jeśli będzie chciał z nich skorzystać.
Gdy zdjęcia są już opanowane, najwyższa pora na
- SYMBOLE
* SYMBOLE PCS - to bardzo proste rysunki, wręcz symboliczne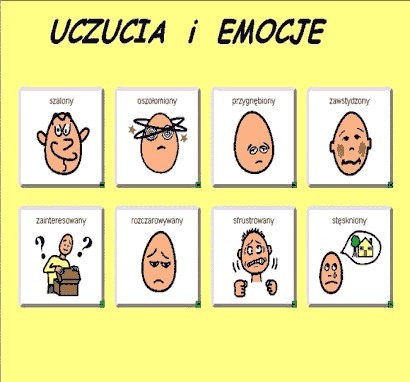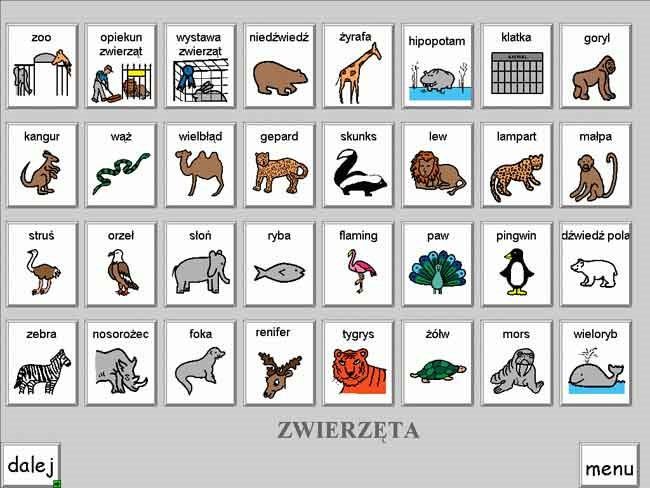 *PICTOGRAMY (PIC) - to rysunki przedstawiające białe sylwetki na czarnym tle

* MAKATON – czarne znaki na białym tle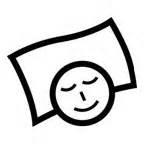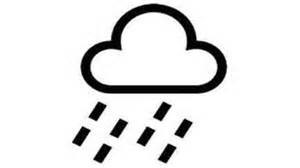 SPAĆ DESZCZ
* SYMBOLE BLISSA
przeznaczone dla osób niemówiących w normie intelektualnej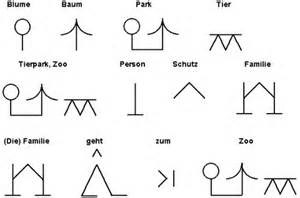 ZNAKI MANUALNE
NP. GESTY MAKATONU
(dom, pić, jeść)
GDY DZIECKO POTRAFI UŻYWAĆ JUŻ ZNAKÓW
MOŻMY STWORZYĆ SYSTEM KOMUNIKACJI
Ważne jest aby dostosować system do możliwości dziecka.
Każde dziecko jest indywidualne, więc dla każdego trzeba stworzyć taki system komunikowania się, który będzie dla niego najlepszy.
System komunikacji musi uwzględniać sprawność ruchową dziecka jak również to, który kanał komunikacyjny funkcjonuje najlepiej oraz poziom funkcjonowania intelektualnego
Przykłady:
- dla dziecka z porażeniem, które ma problem z precyzją ruchów nie możemy zastosować gestów Makatonu (które trzeba pokazywać rękoma)
Możemy zastosować np. symbole graficzne umieszczone w książce komunikacyjnej, odpowiednio duże i szeroko rozstawione aby dziecko mogło wskazać dany symbol
- dla dziecka z niepełnosprawnością intelektualną w stopniu głębokim nie zastosujemy symboli Blissa (gdyż są zbyt trudne) Możemy zastosować symbole jednoznaczne (miniatury przedmiotów)
ZANIM
wprowadzisz dziecko w świat symboli
PAMIĘTAJ
ONO NIE JEST NA TO ZA MAŁE, NAWET, JEŚLI MA DOPIERO 2 LATA
NIE JEST NA TO ZA PÓŹNO, NAWET JEŚLI ONO SKOŃCZYŁO JUŻ 30 LAT
NIE MÓW, ŻE ONO TEGO NIE ZŁAPIE, DOPÓKI NIE SPRÓBUJESZ
NIE ZACZYNAJ OD RAZU OD SYMBOLI, CHYBA ŻE CHCESZ MIEĆ POD GÓRĘ
CZY MASZ COŚ DO STRACENIA
OPRÓCZ
SZANSY KOMUNIKACJI Z DZIECKIEM?
WPROWADZANIE KOMUNIKACJI ALTERNATYWNEJ WYMAGA DUŻO WYSIŁKU.
NA EFEKTY TRZEBA CZASAMI DŁUGO CZEKAĆ.
ALE MA SENS!!!
DOSTARCZENIE ALTERNATYWNEGO SPOSOBU KOMUNIKOWANIA SIĘ MOŻE W ZNACZĄCY SPOSÓB PODNIEŚĆ JAKOŚĆ ŻYCIA OSÓB NIEPEŁNOSPRAWNYCH, UMOŻLIWIĆ IM WIĘKSZY WPŁYW NA SWOJE ŻYCIE, UŁATWIĆ ŻYCIE W SPOŁECZEŃSTWIE
Aktualności
---